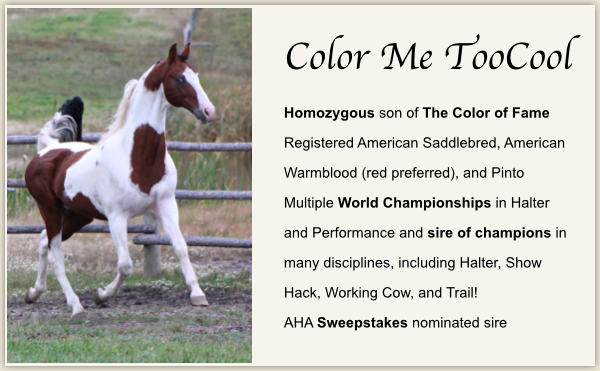 (Clicking any image below will enlarge it further)
---
Additional photos as well as an updated video will be posted shortly
Color Me Toocool is a multiple time PINTO WORLD CHAMPION in Halter and Performance (2007 AND 2014). His sire, The Color Of Fame, has been leading sire of Half-Arabians at Arabian US and Canadian Nationals as well as the Scottsdale show for seven years. Color Me Toocool has been tested homozygous by the American Saddlebred Horse Association. He is guaranteed to produce pinto foals with any color mare.
Color Me Toocool measures 15.2 hands and is an AHA Breeders Sweepstakes nominated sire. He is registered with American Saddlebred Horse Association, Pinto Horse Association and American Warmblood Society (Red Preferred). He has an exceptionally long elegant neck, powerful hip and beautiful head. His progeny are competing successfully as Half-Arabians, Pintos, and Sport Horses.
As a young stallion he has produced a Regional Reserve Champion Yearling, FDF Celebrate (Regional Top 5 2008 and 2009), and multiple Regional Top 5 yearlings, Color Me Hallelujah, FDF ColorMe Awesome, G Stellar Tribute and BPA Aurora to name a few. In addition, his get have been Champion, Reserve Champion and High Point Sport Horse at Class A shows and several have won or placed 2nd in the Stallion Service Auction Futurity classes and the open class at Tulsa Fair. Color Me Toocool has also produced winning entries in Pinto World competition. Hallelujah and FDF Celebrate (full brothers) won the Pinto International Futurities in 2004 and 2005. In 2006 Color Me Toocool was named 2nd in the nation for Highpoint Saddle Type Stallion with the Pinto Association.
At 2007 Pinto World Championships, Color Me Toocool was awarded World Champion Open and Futurity Stallion. His progeny were very successful as well. Color My Expression was JR World Champion Pleasure Type Gelding and FDF ColorMe Awesome Reserve JR World Champion Pleasure Type Gelding. Color Me TooCool's daughter, G Stellar Tribute was Reserve JR World Champion Pleasure Type Mare. All three went respectively in their futurities. Also, FDF Celebrate (Color Me Toocool x Wind Chill Factor) was Reserve Champion Pleasure Type Gelding Amateur. Recently, Color Me Toocool's grandson, BPA In The Spotlight was 2011 US Nationals HA/AA Res Ch 2 Y/O Gelding, and the same year his granddaughter, BPA Go Go Boots was US Nationals HA/AA Top Ten 1 Y/O Filly. In 2012, his daughter PM Dreams N Color was 2012 Region 9 Top 5 HA Working Cow Jr Horse and2012 US Nationals Top 10 HA Working Cow Jr Horse
Color Me Toocool's progeny are future prospects for Halter, Western Pleasure, Hunter Pleasure, Country Pleasure, Sport Horse In Hand and Dressage venues. Producing Athletes With Personality. He was imported from Harrah OK in 2014 and now resides at Arabian Knights farm in Stockholm, SK.