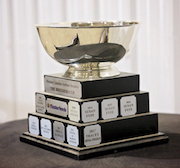 Arabian Knights is a small family operated farm in Stockholm, Saskatchewan, Canada. For over 30 years we have been breeding and training top quality Arabian horses. We breed for beauty, stamina, attitude and, above all else, for a friendly and workable disposition. Our horses are well rounded, reliable and - in the true spirit of the Arabian breed - capable of succeeding in any direction. In 2017, we were awarded the Western Canadian Breeders' Cup.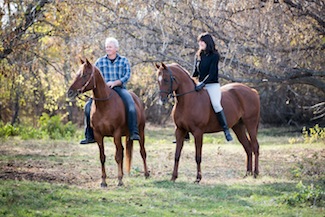 Despite how successful Arabian Knights is today, it grew from the humble dream of Robin and Tracey (nee Shivak) Anderson who built the farm from the ground up while raising their two children, Jade and Clay Anderson.
Robin's family has always been involved with horses. As a young man, he would spend entire summers in the saddle. Having the horse that always returned to camp with it's head high, ears perked, and still willing to go is what first sparked Robin's love for the Arabian breed.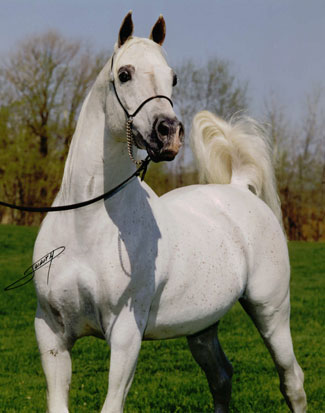 Tracey, an accomplished artist (view "Shivak Art Studio") was drawn to Arabians for another reason. Their stunning beauty and personality was the center of her artwork as soon as she could hold a pencil. When she and Robin were first married, the first thing they bought together was a horse trailer.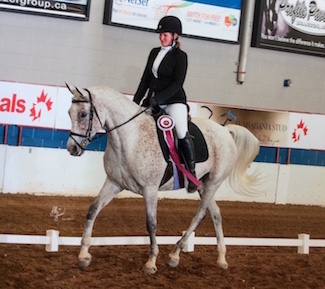 This was followed by the leasing of Arabian Knight's foundation stallion, Imperial IM Mahal (Ansata Imperial x Malekat El Gamal; left) and the purchase of several exquisitely traditional mares of Crabbet and Egyptian breeding. Since then, Arabian Knights has expanded greatly. Their bloodlines now contain some of the most respected stallions of this century, including: El Hilal, TheEgyptianPrince, and The Color of Fame.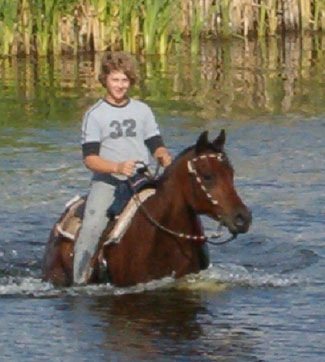 Jade and Clay were raised alongside their parents as each mare gave birth, each foal was weaned, and each horse went into training. Jade's first word was the name of a very special yearling: "Max" and Clay's daredevil feats of "riding a wild horse" were never as risky as he made them out to be – the mares looked out for him and gladly let him climb all over them.
They spent countless hours exploring the countryside - bounding bareback through snow, galloping up hills, and swimming the creek in their "backyard". They joined 4-H when they were only seven and five years old and are still involved with it today! 4-H was Jade and Clay's gateway to the more competitive side of horseback riding. They began showing on the open circuit when they were only nine and seven. They went on to place in many classes of halter, performance, and gymkhana.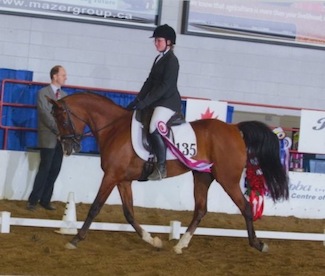 We have since done many things with our horses, proving the true versatility of the breed. This includes: harness, team penning, polo, trail riding, and endurance. However, our greatest accomplishments have been in the show arena, Dressage ring, and Endurance trail.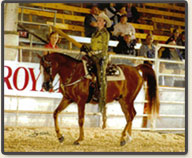 In 2007, Arabian Knight's AK Heeza Tramp (left) competed nationally in Western Pleasure, Horsemanship, and Trail. We returned to the National ring in 2012 with AK Lucy (top) and in 2016 with AK Mahals Shooting Star++/, each of whom earned Top Tens in Dressage, placing in the top third of their classes. We have also won numerous SAHA High Point awards in both the Western and Hunter divisions, as well as numerous high point awards at open breed Dressage shows and multiple Best Conditioned awards at endurance rides.
We currently stand two once in a lifetime stallions AK Fazeer (by Imperial IM Mahal) and Color Me TooCool (by The Color of Fame) and continue to train, compete, and enjoy all equine activities! We are more than happy to answer any questions you may have and look forward to hearing from you.