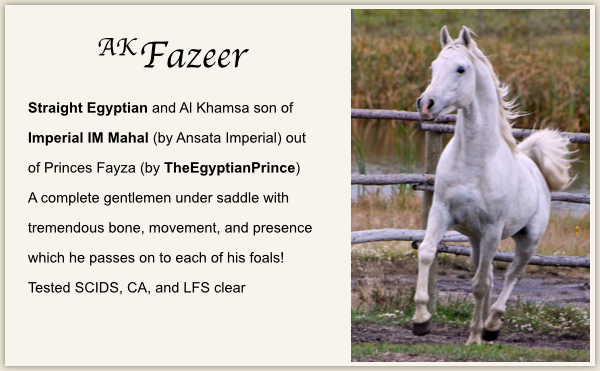 ARLENE MAGID
PEDIGREE RESEARCH
Email Arabbits@aol.com
AK FAZEER is a straight Egyptian stallion with an exceptional heritage combining the best of breeding from Imperial Egyptian Stud, Gleannloch, and the respected German breeder Peter Gross. His full sister TIRRA LIRRA produced the 2010 Scottsdale Top Five Working Cow Horse Junior Horse LASA RUFF JOKER. A full brother to AK FAZEER, KASHKA, is a reserve junior champion at halter.
AK FAZEER is a paternal brother to halter and performance champions including multi-regional halter winner BLUE DESERT. His sire, multi-halter champion IMPERIAL IM MAHAL, is a multi-halter champion and reining ribbon winner last owned by Marion Richmond of the famed Simeon Stud of Australia.
IMPERIAL IM MAHAL is a paternal brother to World Champion Stallion, U.S. Reserve National Champion Stallion and World Champion sire IMPERIAL IMDAL+, to U.S. Top Ten Futurity Colt IMPERIAL IMMAROUF, to U.S. Top Ten Western Pleasure IMPERIAL AL AMONRA, and to World Champion Mare and U.S. Top Ten Futurity Filly IMPERIAL PHANILAH. IMPERIAL IM MAHAL's sire, U.S. Top Ten Futurity Colt ANSATA IMPERIAL, is a son of U.S. National Champion Stallion ANSATA IBN SUDAN, sire of 6 National winners and 12 producers of National winners. ANSATA IMPERIAL is out of ANSATA DELILAH, dam of 5 halter champions including his full brother, ANSATA AMON RA, sire of Canadian National Champion Jumper and U.S. Reserve National Champion Hunter AOTR RGA SHALHAMAR+.
IMPERIAL IM MAHAL is out of halter champion *MALEKAT EL GAMAL, the first straight Egyptian mare owned by Imperial Egyptian Stud. She produced 5 champions including regional champions in halter and regional winners in western pleasure. She is a mare of world wide influence, as her son AMEER AL BADEIA was the head sire of Egypt's Al Badeia Stud (he is the maternal grandsire of World Champion Mare GELGELAH AL BADEIA) and her daughter *IMPERIAL SAYYAH is the maternal granddam of World Champion Stallion *AL ADEED AL SHAQAB.
AK FAZEER is out of champion producer PRINCES FAYZA, a full sister to Egyptian Event winner producer PRINCESS FAYEK. She is a daughter of the Gleannloch bred THEEGYPTIANPRINCE, a sire of National winners in halter and dressage. He is one of the most respected broodmare sires in Egyptian breeding, with 16 daughters who have produced National winners through 2010. U.S. Reserve National Champion Stallion THEE DESPERADO, the leading living Egyptian sire of champions, is out of a daughter of THEEGYPTIANPRINCE.
PRINCES FAYZA is out of the imported German mare *SB FAYZA. She is a paternal sister to South African Reserve National Champion Stallion HAMASA IBN KAISOON, to YUSRIA (dam of Canadian National Champion Jumper and Reserve National Champion Hunter and U.S. Top Ten Jumper *SINDH+); to NAFTETA (dam of German Reserve Supreme Champion Mare BINT NAFTETA); and to Israeli Reserve National Champion Mare *BINT BINT WEDAD, dam of National Champion producer KP BINT TUHOTMOS and Egyptian Event Champion producer *WAFIYAH (dam of 2010 Egyptian Event Champion Gelding TRUE IMPERIAL). *SB FAYZA is out of *BINT FAYEK-I, a daughter of *RAMSES FAYEK, sire of 10 National winners including U.S. National Champion Stallion AMURATH BANDOLERO+. *SB FAYZA is from the same tail female line as *ADHEM, who is found in the pedigrees of a number of Sport Horse National winners. including multiple National Champion Dressage KHEHANAD ADHEM++/, a double *ADHEM grandson.